wKeep walking around Melbourne for a little while and you'll start to see ghosts. Take a look at any old building in town or any faded suburban milk bar, and you'll spot it: faded logos and signs of companies and products often long gone, telling the history of a building like the rings in a tree.
Sean Reynolds is a fan of these "ghost signs," and he has closures to "thank her, and blame her for it," he says. He moved to Melbourne from the US eight years ago, but was initially fascinated by the streamers as he walked Yarraville and Footscray with his young daughter during lockdown day trips.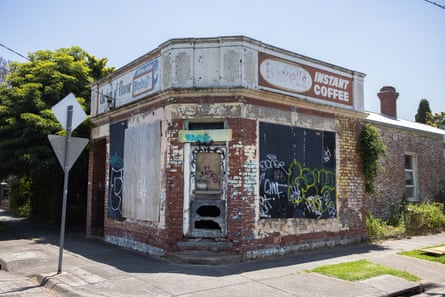 "I'm American—I don't have any cultural context for this stuff—so for me, it's all new," he said. He loved the faded, hand-painted signs, the intricate glasswork and the old factories of brands he'd never heard of: Peter's ice cream, Uncle Toby's, twenty-four pies. He started posting the photos to Instagram, "to keep a running record of what I was finding" — and before long, @melbourne_ghostsigns had over 23,000 followers. He now gets between 10 and 20 tips a day on where to find more.
"There are a lot of people documenting these things," he said, "but not a lot of people researching their history." "So I started doing that — like, What are Robur teas? I wanted to know the stories behind them."
"I think people think I'm crazy, the amount of work I put in on it. But it's my hobby. It's like solving a puzzle, in a way — I know the history of Melbourne really well, in a way that not a lot of people do. As an American immigrant, that's probably very alien to people!" "
Reynolds is now part of a broader social media trend of popular accounts documenting life in Melbourne: such as TikToker Garden State Journal, whose videos of everyday life in suburban Melbourne are viewed by thousands; or @housesofnorthandwestmelbourne on Instagram, which posts a history of the old homes in the northwest of the city.
"Every sign tells a story," says Reynolds. "It may sound obnoxious, but I call myself a cultural archaeologist—discovering these stories that may not have been thought of in 100 years."
"I don't monetize it at all, I just love doing it. It's become an obsession — I know that sounds unhealthy!"
His publications are often rich in tragedies, pieced together from old newspapers: buildings full of murders, court cases, bad husbands, bad wives. Some are lighter, like the pastry chef tasked with baking the world's largest cake, or state icons like Little Audrey, dotting the Richmond skyline. Many are simply about the march of time: groceries once passed from father to son, factories that now remain silent.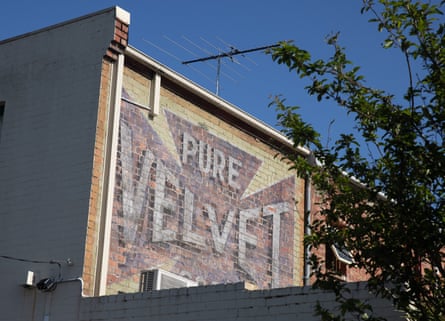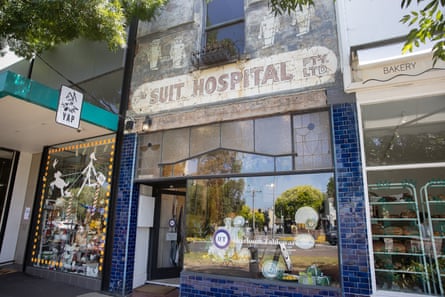 Outside of his day job in marketing, once or twice a week Reynolds goes for walks around a suburb and takes pictures. He marks flagged sites on Google Maps and goes searching — "I'm often not quick enough to catch them before they're demolished" — then digs into history, using State Library, Trove and even real estate listings.
"Then I handwritten the history of the place—like, 1970 was a milk bar, 1950 was a grocery store, 1920 was a newsagent, 1900 was a shoemaker," he says.
He's particularly fond of milk bars, and dedicates one day a week to #MilkBarMondays. "We didn't have anything like that in the States—New York has bodega, but I grew up in the Midwest and all the old 7's and 11's corner stores were taken over. Milk bars are so cool to me," he says.
He particularly likes Australian labels—"There's an amazing one for Four'n Twenty pies in Albert Park, for a mustache pie"—and long-lost brands like Robur: a Melbourne tea company that started in the 1890s, when Australians Drink the world's largest amount of tea per capita (each person enjoys about 4 to 5 kg of tea per year).
"I like Robur because it was a Melbourne company and I have such a love for Melbourne as my hometown," he says. "I also like that the signs often just say 'Robur' — it's like Nike for tea."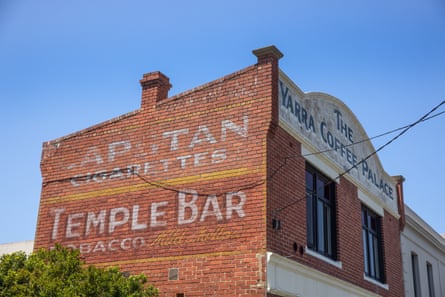 Reynolds is even considering getting a tattoo of a Robur teapot, which can be seen on a building on Lygon Street in Brunswick East. "I'm very much against corporate branding, but Robur is totally gone now; he wouldn't exploit workers or say something disgusting about LGBT people," he laughs. "They can't disappoint me!"
Looking for new ways to get a better view of signs can include asking to enter people's businesses or homes. Such as the "Newman sign removed to 289 Collins Street" sign, which can be seen partly from Elizabeth Street in Melbourne; He gets a great shot after explaining his quest for a nearby beauty salon. While filming an old warehouse in North Melbourne, they are invited by a stranger to their backyard to get a better view.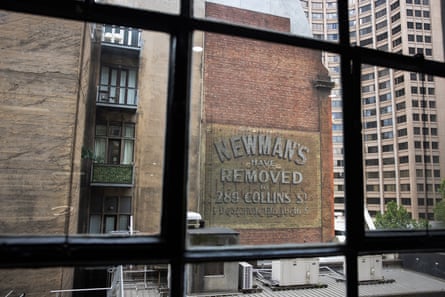 "Once I start talking to people about what I do, everyone has a story," he says. "Oh, I used to go to that store and the guy who runs it caught my eye," or "I loved that milk bar because they always sold us cigarettes and we were underage."
"I was recently taking pictures of an old milk bar and a lot of people from the neighborhood were coming up to me. One said, 'This is how my kids used to make friends, they'd get an ice pole and sit on the sidewalk.'" That kind of community center is kind of gone now, which is sad.
"Documenting these things is a way for me to say, This is what was here — what we've made up for inconvenience, we've also lost in the community."