books

Kidder's latest non-fiction work follows Dr. Jim O'Connell, founder of Boston Health Care for the Homeless, in his work to provide medical care to the city's homeless.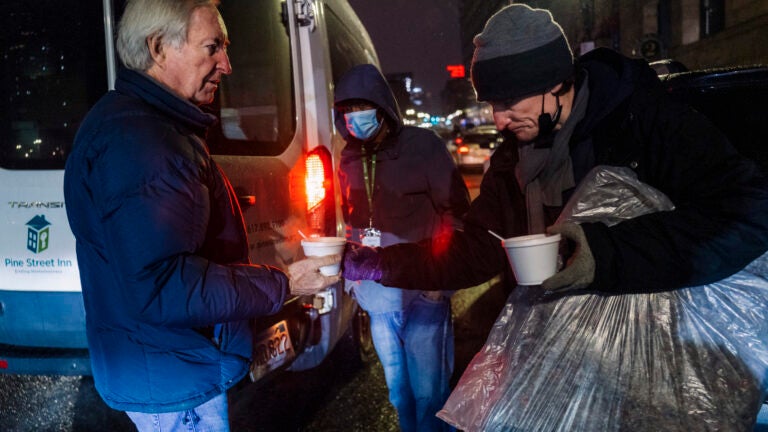 From the book ROUGH SLEEPERS: Dr. Jim O'Connell's Urgent Mission to Bring Healing to the Homeless by Tracy Kidder. Copyright © 2023 by John Tracy Kidder. Published by Random House, an imprint and division of Penguin Random House LLC. All rights reserved.
---
I
truck
At about 10 o'clock on a warm September night, the outreach van pulled up in a kind of South Boston neighborhood that was said to be "in transition." On one side of the street was a new apartment building, its windows alighted, its sidewalk lit in artistic imitations of old street lamps. On the other side, in a mysterious light, was a deserted loading dock. A pile of blankets was placed on a concrete platform. No one would have known that they were anything but discarded blankets. But when the truck driver came up the stairs and spoke to them, saying he was doing a health check, a muffled voice came from below: "F*you. Get a f*outa here."
The driver turned away and shrugged at Dr. Jim O'Connell, who was standing at the bottom of the stairs. "Let me try," said the doctor, and went up to the sidewalk and knelt beside the gray mound. "Hi, Johnny. It's Jim O'Connell. I haven't seen you in a long time. I just want to make sure you're okay."
An earthquake in the blankets, then an eruption: tangled hair, a bright red face, and a loud voice, saying in a Boston accent, "Doctah Jim! How are you ya!"
For the next half hour, Johnny reminisced about his past alcoholic adventures, about old friends who are mostly dead. The doctor listened, laughing now and then. Johnny mentioned that the street clinic was still open on Thursdays at Mass General. Johnny must come. That is, if he wanted to come.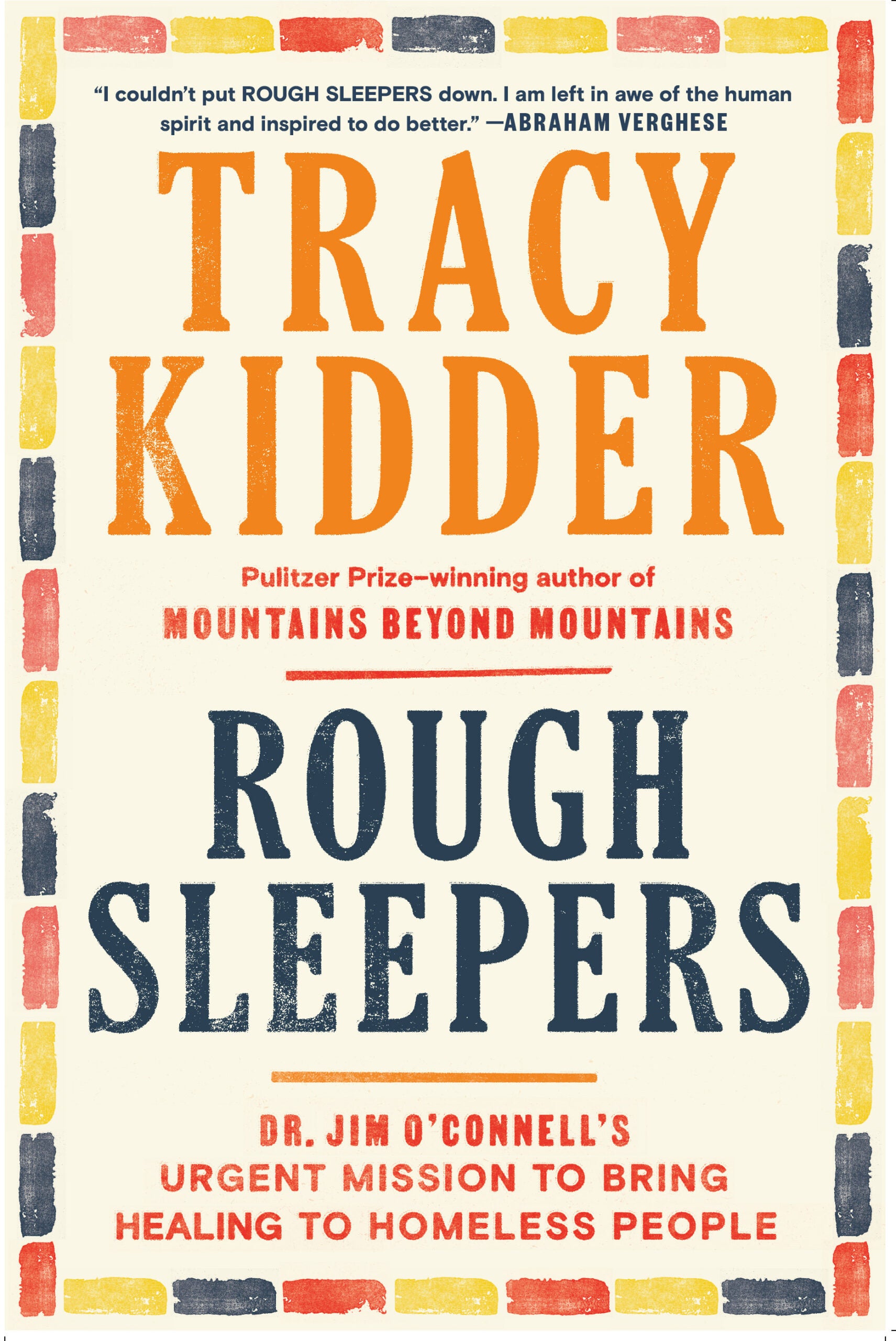 Dr. Jim – James Joseph O'Connell – has been riding the outreach truck for three decades. During those years he created, with several friends and colleagues, a large medical organization which he called "The Program," short for Boston Health Care Program for the Homeless. It now had four hundred employees and took care of about 11,000 homeless people a year. Jim was its president, as well as the leader of the Street Team, a small part of the program, with eight members serving several hundred homeless people who avoided the city's many shelters and lived primarily outside or in temporary accommodations. About half of Jim's administrative work now lay in running the Street Team, and all of his clinical work went into treating his patients, the "Boston sleepers," as Jim liked to call them, borrowing the 19th-century British term.
The truck was an important tool for reaching these patients. It was funded by the state and operated by the Pine Street Inn – Boston's largest homeless shelter. Nowadays, two pickup trucks come out of the pub every night. They became an institution, which Jim helped solidify in the late 1980s. At the time, he rode three nights a week, usually until dawn. Now he only went out on Monday nights and came down around midnight.
When Jim begins these van rides through the night streets of Boston, he imagines the world of sleepers in shambles. But it turns out that most of them had areas to hang out and roam during the day — "pop" was a street term, and its origin is obscure. For sleeping, they had preferred driveways, park benches, alleys, underpasses, and ATM lounges. The rough sleepers were like homebodies without homes. At the start of the trip, Jim, the driver, and the co-driver would trade names of people they were worried about, and they could usually find each of them within an hour or two. Jim was like a 1950s doctor making house calls, though the van rarely dispensed more than simple medication. Rather, its purpose was to bring food, blankets, socks, and underwear to rough sleepers, and, more urgently, to find and bring people in distress, if they were to come—to hospital emergency rooms or to homeless shelters in the city. . The van was also a tool for keeping in touch with the sick, their illnesses, and gathering unpublished news on the streets.
Q&A: Author Tracy Kidder and Dr. Jim O'Connell on the new book, "Rough Sleepers"

Like all of Street's crew, Jim carried a briefcase, his doctor's bag, and its contents polished and miniaturized over the years. It consisted mostly of basic first aid and diagnostic equipment—a blood pressure cuff, a small pulse oximeter, an ear thermometer, a simple blood glucose meter, and a stethoscope. Among the losses he regretted was a pint bottle of whiskey he once carried for times when a patient was experiencing alcohol withdrawal and on the verge of a seizure. "You can't do that now. It becomes a moral issue."
He wore his mobile phone in a pouch on his hip, and carried a small flashlight, thin enough to hold in his teeth if he needed both hands to examine a patient. The flashlight remained one of the Street Team's primary tools for checking rough sleepers. A few years ago, a patient asked how Dr. Jim would feel if his doctor came into his bedroom in the middle of the night and woke him up by shining a flashlight in his face. Jim took the case to the program board, a group of about sixteen, which includes experts in health, medicine, and finance, and several formerly homeless people. The board convened a meeting of about three dozen rough sleepers who issued this advice, long since become policy: Health checks should go on, but when they wake people up late at night, Jim and his team should shine flashlights on their faces. . So as not to startle patients.
•••
The bus stops under street lights on Broomfield Street not far from Boston Common. It's like a minibus, with several rows of seats, mostly occupied by boxes of blankets, underwear, and socks. In the back is a small canteen with boxes of sandwiches, condiments, and bowls of hot chocolate, coffee, and soup. Jim gets out, opens the back doors, and looks around for customers. His face is pale red, with silver hair falling at the collar of his head and over his ears. He wears light colored shorts, a collared shirt, and clogs. Six-foot-tall, well-mannered and moves with an athletic aplomb that makes the job look easy, his voice is full of energy and cheerfulness as he waits for customers in the back of the truck.
A skinny black man strolling into the light comes from an alley.
"Do you have soup?" Asked.
"yes!" Jim says, taking a styrofoam cup and filling it from one of the bowls.
"Do you have crackers to go with it?"
"Definitely!"
"Isn't there a doctor who goes with you guys?"
"I'm a doctor," Jim says. Then he introduces himself and extends his hand.
The man says, "I want to change my doctor." "I hear good things about you."
"We'll be happy to take care of you. We'll be happy." The man should come to the Street Clinic on Thursdays, says Jim, adding that it takes place at Mass General—the giant Massachusetts General Hospital, near the banks of the Charles River.
The truck stops several times. Meets a mixture of people. Women seem to be about half as numerous as men, and lone women are a rarity, and the streets at night are almost certainly especially dangerous for them. There are many black faces, but much less white ones, which is surprising. Homelessness disproportionately affects blacks and Latinos in both the US and Boston, and one might expect the same to be true of rough city sleepers. Jim has long worried that the truck and other outreach efforts have consistently missed sleepers of color, yet most of the truck drivers and their assistants are themselves Black and Latino. Over the years, they have often searched for their own places in the night city. Perhaps Jim believes that the black and Latino communities are more willing than the white world in Boston to house the homeless. However, once people hit the streets, they've reached some terrible equality.
A young white woman comes into the light on Washington Street, hopping on one foot and then the other, running her hands through matted strawberry-blonde hair, while furiously rubbing her arms, neck, and face. "That's what people at K2 would do," Jim says softly, as the woman approaches. K2 is synthetic marijuana, which is known for its unexpected effects.
Her voice is loud and loud: "Damn it! I have lice! I was exposed to lice and I'm panicking. I already had all the treatment and someone stole it."
"Where did you get the treatment?" Jim asks.
"I bought shit at CVS and someone stole a hundred dollars worth of lice removal shit I'm in court tomorrow my mom is sick in the hospital she's dying I need to go see her but I'm not going out there and shaming people a lot of chicks have 'em and no tell them."
Stay up to date in the book club
Keep track of the latest Boston.com Book Club selections and join virtual author discussions.