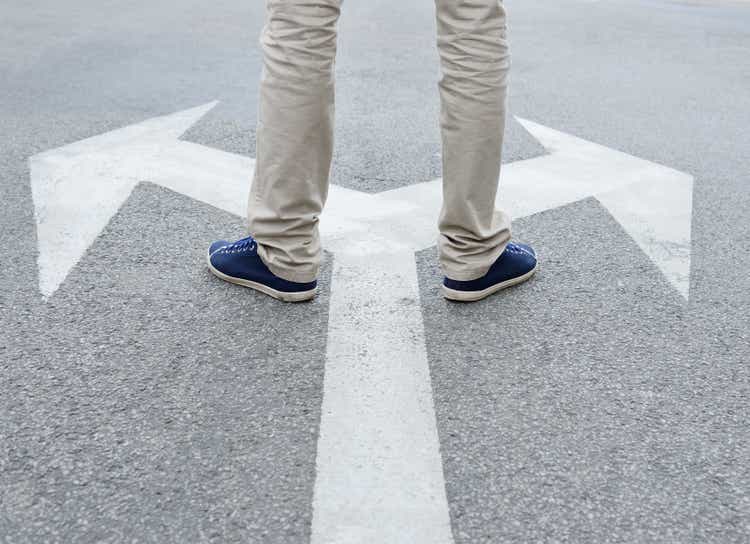 First, let me set up this binary decision
Anyone more than a casual observer of the economy and stocks will say the obvious. The Inflation Dragon has been killed. We have months of watching inflation drop by a third. many Economists expect the inflation rate to fall to 3% by the end of '23, early Q1 '24. This realization has been cabled by the bond market for months with 2-Y trading well below 5%. December 22nd ended miserable due to the sale of huge tax losses. Now in January, we are seeing a very strong rally forming. This rally is broadly supported by multiple sectors, it is shaping up like a tidal wave and the peak is likely to be so high that it reignites money supply growth sharply. As the great Nobel laureate economist said – "Inflation is always and everywhere a monetary phenomenon." Jay Powell, of course, knows this economic law well. targeting The labor market is justified only by the number of job openings open for each available worker that would maintain higher wages which in turn would increase the money supply. Low unemployment itself is not inflationary. Indeed, in many ways, hiring more workers can lower inflation. And herein lies the dilemma, even if the final interest rate is 5.10% we are nearing the end of the price hike. Powell is widely expected to announce an increase of 0.25%. This will be taken in the same way as a beginner's gun points in a foot race to the meet. I am using this analogy in relation to the participants in the stock market. There is about $4 trillion in cash available that would fund a massive rally for every class of stock along with utilities and commodities. I expect an equivalent jump in stock prices to create huge wealth and, therefore, too many dollars going after too few goods and services. Powell can choose to end his price hike and hope that what he did finally undermine the economy even stronger or he can try some tactics to cool the market's temperature rising to magma.
Powell beat inflation, but his problem now is that he's beating inflation.
Should a fraction of that extra money flow into the stock market, it could jump 15% and 20% before the end of the first quarter. Inflation is unlikely to rise if the market rises 15%, 20% or even more in a year. But within 6 to 8 weeks? It becomes a distinct possibility that this fast money could push inflation above 7% at the same time. This would spell disaster for the economy, by raising inflation expectations and reigniting the fearful wage/price spiral. It would also kill Powell's chances of redeeming his legacy. Powell wants nothing more than not knowing the man who brought back the '70s and then dubbed him "The New Arthur Burns." He wants to make sure that inflation continues on its downward slope, the way it has been going. I hope I have identified the problem for Powell. So what can he do?
Powell has to prescribe a bitter pill to swallow in order to control the inflation
There are several options that immediately come to mind:
The market expects 0.25%, Powell expects 0.5% and hints that there could be more

Take QT seriously and with a bigger "T". The goal was $95 billion a month, announcing $115 billion and really sticking to it. There are reports that the Fed has missed this target several times

Start selling 10- and 20-year notes, and mortgage-backed securities. The Fed has just let Mohammed bin Salman escape. Instead, they must sell more in the market.

An order in which margin leverage is reduced.

I'm not sure of the mechanism, but I'm sure the Fed could get big banks to raise interest rates on savings accounts and even require retail checking accounts to pay an interest rate

A side effect of raising money for the treasury could be financing the debt ceiling. This may justify selling more bonds.
Any of the above actions could choke off the growing animal spirits in this market
This is not a prediction, I am referring to a risk that I feel is being ignored by the financial media. Nor am I saying that the Fed is doing all of this at once. It may announce a temporary halt or reduction of leverage on all new margin trades for the next 60 days. A less controversial move would be to raise the rate by 0.50%. If it weren't for a pre-warning "leak" coming from a WSJ.com journalist as usual, no familiar Fed statement and no Q&A, that would give the maximum effect. A simple statement stating that progress has been made in inflation but that inflation is still very high at 6.56%. Also, it's time to tackle speculation head on, put a temporary cap on margin debt of some sort, that would do a lot to put some reserves back into the market. I think QT should be pushed up front because a move much more than 5% would cause a recession, and Powell doesn't want to cause a recession unless absolutely necessary. Aggressive QT amounts to raising interest rates in the long run anyway. The sale of Mohammed bin Salman would raise mortgage rates to 6.5%. The reason the Fed didn't aggressively sell the long end was because it wanted the inverted yield curve to be in place as a break from market overabundance. This trick more than outlives its usefulness as the indicators are increasing and it is about to recharge up.
This is the latest measure in the Fed's anti-inflation battle on the monetary side
I have listed a number of unconventional ways the Fed can beat the bull. It is now up to the executive branch and Congress to reverse the flow of money from government handouts. If there was better coordination, such drastic measures would not be necessary. Right now, as day turns into night, if the Fed releases a quarter point and announces it's data-driven, stocks will soar like a SpaceX rocket. This is something the Fed wants to avoid. If my reasoning does not convince you, perhaps Jay Powell will consider a more creative act of mine to suppress the "Soft Recovery Faction" of the Bulls. I can't believe it's going to fuel this explosion of speculation further. Some of you might be thinking why he didn't address the fourth quarter earnings season that just started? Doesn't everyone expect stocks to drop because earnings will be bad? Personally, I don't think earnings are bad, however, the Fed "pivot" would be a much stronger incentive to drive stock prices higher despite any bad earnings news.
This is all academic if the ECI data to be released on January 31 shows that employment costs are still rising. The FOMC meeting is on February 1st, so a bad read could immediately call for higher prices, and we're on the same path we've been on since last year. Anyway, something needs to be done to suppress the market, this is my basic case.
what should be done
The first step is to bank your profits and sell enough of your trades to equal your current profits. Make sure you have cash left, so if you want to start a new position, sell an existing position or part of a position to pay for it. You have two weeks to allocate a significant amount of money to your trading account. I recommend setting aside more than 25%. In order to get there you have to sell some losers too, if the market goes down you can add back to the positions you sold earlier at higher prices.
If the market breaks out and approaches or passes 4100, I will place some hedges on the indices. You can use an inverse ETF if you are afraid of options. Just remember not to sit in it for more than a few weeks. In this case, we are talking about the first or second week of February. So if you don't see the S&P imploding through 4100 and you think the Fed isn't going to do anything drastic, you don't need to hedge. If you think there is a chance of 0.50% even though the market has not turned parabolic, you can use 3X inverse ETFs to hedge. However, if the Fed chooses to do nothing, you should quickly close those hedges. For those who are good at options, there are any number of ways to hedge an index, your basis could be a SPY or 3X bull ETF, you could do the same with a QQQ or put longing bull ETF. Right now I don't have any hedges on the indexes, but that doesn't mean I won't do so this week.
my trading
As I said in my last article, I started picking individual stocks to oppose. I feel that a company that has a flawed business model for the current economy will perform poorly on any rally or strong decline on any sell-off. I started last week with some put options at Bed Bath & Beyond (BBBY). They have filed a "Notice of Continuity" with the Securities and Exchange Commission. Instead of crashing, the arrow started to rise. All the while it started getting higher, and I kept adding. Last Friday, BBBY rose to more than $5, then reversed and fell again. I hope to see her continue to fall back to earth. I had some Coinbase (COIN) put options starting on the last trading day in December, and those Put options were not working. I am thinking of re-evaluating them and closing these positions. I've added a new sell option that takes the position to March. So I will probably sell the old options and hold on to the new ones. I have a brand new Carvana short (CVNA), I couldn't believe my eyes when I saw it was over $8, so I got it this Friday when it was about 7.5, and that's where it struck me. I still hold DoorDash (DASH), I expect the Instacart IPO to happen soon and I still believe DASH will be a source of funds for those who want to participate in the new IPO. I have been added to my position at Nordstrom (JWN) but it expires in February. I may have to put it up to expiration in March. I'm a bit underwater with JWN too. However, I'm not worried, I think JWN will sell out of its earnings, as well as sell with department stores in general. I'm still in CarMax (KMX) with put options through February and April. I still think KMX has two problems, an inventory of expensive used cars that they have to carry on the balance sheet, and a larger supply of new cars that come into dealerships every day. On the other hand, if we have a recession, it will probably show up first in the subprime used car loan business. Even if KMX doesn't get involved in subprime auto loans, any such bad news will hurt its stock. At this point, I'm moderately under water here given the huge climb we've embarked on. I have the same situation with Southwest Airlines (LUV), the strong rally lifted the stock, but I added put contracts to March. The CEO will have to announce some huge fixes to the project that will cost them billions more because they need these changes right away. Until then, the Biden administration will force them to be generous with their imprisoned passengers. We are still in the snow season and there is no reason to expect smooth sailing from here. So I'm still short on Puts. You have added long positions. I went long on DexCom (DXCM), the best continuous glucose monitor. It is used for type 1 and type 2 diabetes, and it is only a matter of time before it is prescribed for pre-diabetic patients so that they can monitor their glucose spikes and learn how to manage their food intake to lower their glucose levels before that. Transitioning to type 2. This would have the potential to lower the cost of chronic diabetes and save millions from an early death. DXCM dropped to 105 on Friday and I snapped it up. I closed my position at Caterpillar (CAT) and transferred the money to CaseNewHolland (CNHI), CNHI owns agricultural and construction equipment. Since CAT has been at all-time highs for a few days in a row, I feel it should be combined. It was a small position anyway, and I try to reduce the number of positions if I can. I did my usual trim on Friday, and couldn't help but notice that WTI is about to break above 80. I will add to my oil names I would like Long EOG Resources (EOG), and possibly Diamondback Energy (Fang). I certainly won't sell any more shares in Coterra (CTRA) and Devon (DVN).
Well, that's about it. I know I was talking about the S&P500 and the NDX100 as they are going higher. What if they don't, what if instead of breaking above 4100, it breaks below 3800? What if there was a Fedspeak this week that couldn't be ignored, such as perhaps talk of leaving QT to be the Fed's focus once it stops raising interest rates? They might have floated the idea of ​​selling $100 billion to $200 billion a month if only to keep the government engine running. That could provide the level of vigilance Powell wants without doing anything yet. Of course, if that happened, I would be very happy to put on my shorts.