a A month rarely loaded with certainty has one thing certain for Arsenal. When January ends, they will be at the top of the Premier League, with a game in hand against their rivals and the prospect of a huge points lead. They are currently the best team in the division by a certain distance, and when everything is running smoothly the momentum can feel quite self-sustaining.
Their winning method at Tottenham, which included a first-half display that he is as capable as anyone all year, reinforced the view that Mikel Arteta is under little pressure to make changes in the second half of the campaign. The consistency of Arsenal's performance is remarkable. The results are consecutive and the team is so deep that the mid-term absence of their star striker, Gabriel Jesus, is hardly felt.
The last point is a far cry from May, when Arsenal lost their grip on a Champions League place after giving up at Tottenham and Newcastle. Injuries have bitten, three inexperienced academy products making up their numbers on the bench at St James' Park, and they haven't been able to cope. Arteta's resources, particularly in defense and up front, look better now, but eyes will continue to be focused on the remaining two weeks of the transfer window. What is required to turn something that is more likely to happen into something that is certain?
The easiest answer is a clean bill of health. If Bukayo Saka, Thomas Partey, Martin Odegaard, Gabriel Martinelli and perhaps the increasingly influential Oleksandr Zinchenko keep himself fit for the next four months, it's hard to imagine Arsenal not going home. But none of that has been confirmed, and with up to seven Europa League ties expected from early March, Arteta knows it would be best to ask for some help.
Good competition in wide areas should ease some concerns and the same goes for midfield. The return of Emile Smith Rowe from injury, and the hope that his long-standing grievance will be resolved within four months, certainly helps the former but Arsenal remain in the market for reinforcements. They have been frustrated in this transfer window but it becomes an easy pill to swallow when you are ahead of the competition.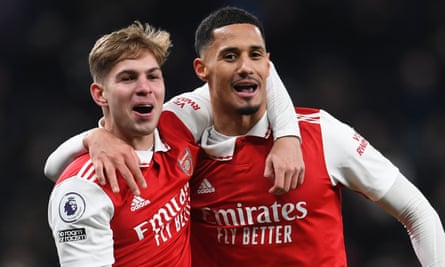 Replacements will be sought for Mykhailo Modric, who Arsenal were confident of landing from stubborn Shakhtar Donetsk until Chelsea blasted them on terms the player and selling club could not resist. Arsenal have already shown this month that they are willing to walk away from a deal: they were in Joao Felix's side at a late stage, but pulled out when it became clear he would cost a £9m-plus loan fee from Atletico Madrid. Chelsea have shown no such inhibition, although it may have been of limited use immediately now that the striker has been banned for three matches.
Arsenal's restraint, as far as anything can be described in this way in the modern transfer market, speaks to the lessons learned institutionally since Arteta's arrival. They don't intend to get burned again because they were paying £72m for Nicholas Pepe. Planning and patience, particularly in holding on to Arteta when others may have picked up knee injuries, has paid off amazingly.
They had spent months working on a deal for Modric, which was always going to be expensive given the fee Manchester United were paying for a player of similar age and position in Anthony, and priced in the intransigence of Shakhtar, so it was exciting for them to see that. Chelsea steals. In the end, Chelsea were given enough assurances that Modric would step down from his stated preference to join Arsenal and move to west London if the only offer was in town. It was yet another example of the annoyance Todd Bohle and company have made themselves out of in the market: they have shaken things up to their liking, in the short term at least, but Arsenal are among those who would rather avoid being drawn into a whirlpool. . After all, it is their style of work, not Chelsea's new system, that brings results.
This is why they are so unlikely to react to the loss of Mudryk by splurging indiscriminately on the next available equivalent. However, Arteta was now left with a bit of a dilemma. Modric was an attractive option due to his age and exciting potential, but how hard can it be to pursue other prospects who don't jump in so easily? Perhaps Rafinha, an obtainable ex-Barcelona target, would be a good fit. Arsenal will kick themselves if they escape the final prize because the drop from Saka or Martinelli was too extreme; They can also regret making the wrong trades at a time when there is little standing between them and making a near-perfect season.
At least Arsenal can ask themselves such questions. In the recent past, 'winning in the transfer window' has become an obsession among some sections of fans, but it's going to command a second bill this time around. They win the important contest. Victory over Manchester United, who would become unlikely title contenders if they secure three points at the Emirates Stadium on Sunday, will boost an already imposing position significantly. Perhaps Arsenal, for all their nagging concerns about what may or may not lie in the reserves, will be able to stay their distance as they are.